Details
6:30pm to 9:00pm
Food & Beverage
Dan Chan Magic Show & Dinner for Friday, February 8, 2019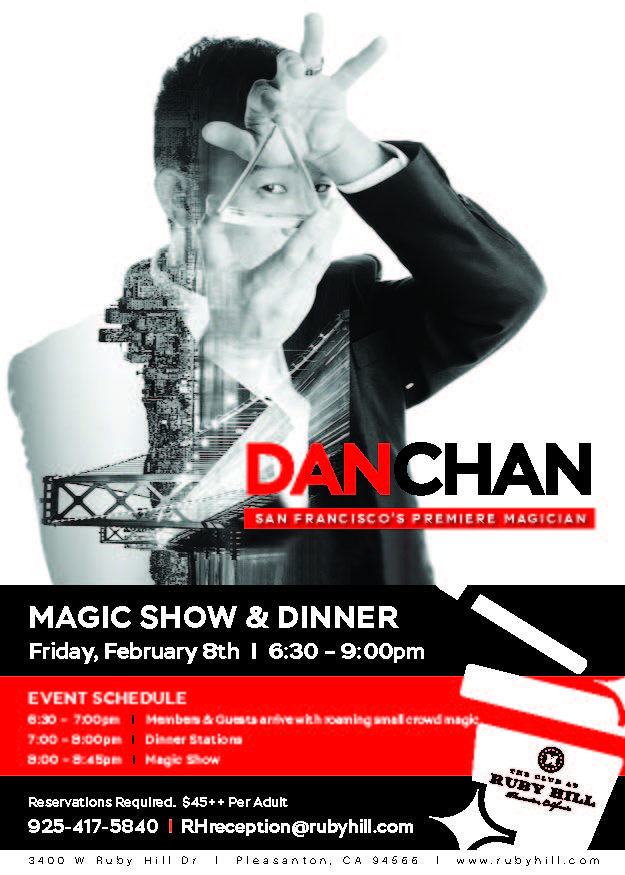 The Club at Ruby Hill is excited to announce a thrilling magic show by Magician Dan Chan.
Dan Chan Master Magician is an internationally renowned, award-winning magician whose magic has taken him all over the world. Based in the San Francisco Bay Area, Dan is regarded as the nation's top corporate magician and performs at events for celebrities, thought leaders and influencers worldwide.
The Show will take place here at the club in the main dining room. We will have a buffet style dinner with a magic show to follow. Beverages will be available for purchase. Arrive a little early and enjoy private group magic tricks before dinner starts.
Guest arrival 6:30-7:00 pm.
Dinner from 7:00-8:00 pm.
Magic Show from 8:00-8:45 pm.
$45.00++ Per Adult.
A second Magic show will be held March 10th that will be for the whole family.
Kid Care will be available the night of this event at no additional charge.
Please RSVP below or by calling 925-417-5840
* 72-hour cancellation policy applies for this event.
---
Magic Menu
Amuse Bouche
Invisible Potato Chips
Appetizer
Grilled Cheese Appetizer
Clear Tomato soup with fried basil, aged cheddar, and toasted bread crumbs
Hand Carved Santa Maria Tri-Tip - Garlic and herb crust
Vegetable "Lasagna"
Layers of roasted vegetables, goat cheese ricotta, mozzarella, and tomato marinara (V)
Bejeweled Rice
Basmati, pistachios, pomegranate, herbs
Zucchini Noodles tossed with fresh garlic, olive oil (v)
Smoke and Mirrors
Smores
Marshmallow fluff, graham crackers, and Smoked Vegan chocolate mousse