We are excited to be able to give our Members a newly designed, wine cave inspired dedicated Member space.
Monday, September 14, 2015 in Renovation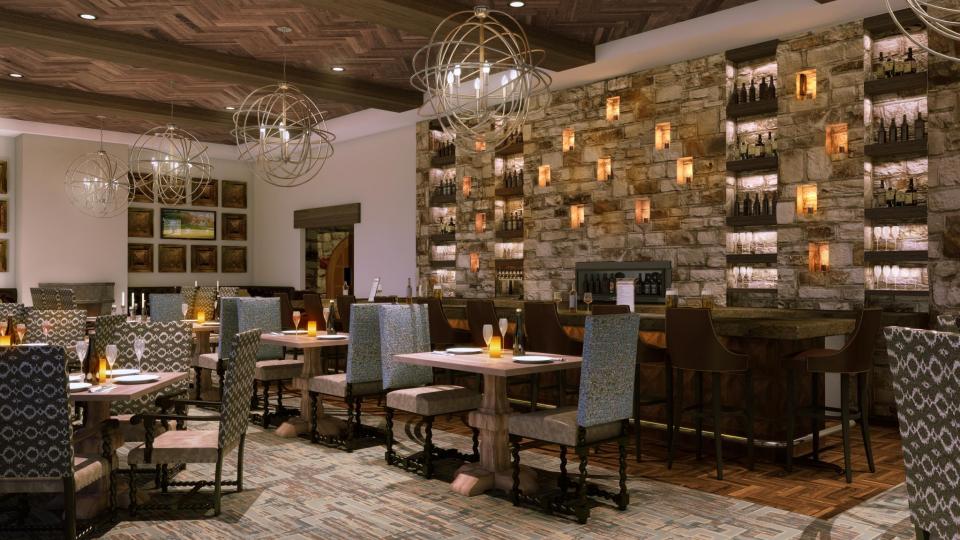 Dear Ruby Hill Members,
We wanted to provide an update to our membership about the work that continues to happen while we try to keep our renovation project moving forward.
As with almost every major construction project, ours too has run into permitting issues that have slowed down our ability to get the actual remodel process started. The challenges have all been related to bringing the clubhouse up to current codes for Accessibility as well as the Green Building Standards. Because of our initial request to do work in the Member's Dining Area, it has triggered the requirements for the entire clubhouse to meet all of the updated codes for ADA accessibility, building green energy requirements and water conservation plumbing and fixtures. Codes have changed from when our clubhouse was built and because we wanted to renovate a small part of the clubhouse, all 34,000 square feet of the main clubhouse and adjacent indoor and outdoor areas must be brought up to current standards.
We are hoping to have our permits back at the beginning of October which will allow us to finish with the renovations around the first of the year in January. Once we get started, everything will go quickly. We've been working on everything we can to prepare for the fastest possible construction.
Here's a recap of our Transformation Process that our Members will be able to enjoy once it's complete this fall.
To help create the New Vision of your Club, we will be expanding the previous Member's Lounge area by 3,800 square feet and completely removing and relocating the existing bar. This will add an additional 48 seats to the members dining area. We will also be adding additional seating outdoors while providing a separation of the private event space and the new dedicated Member space. To help with this process, we will be creating a beautiful, new Member Entrance into the new dining space that's located on the southern side of the lower Clubhouse. By providing the redesign of the dedicated dining space for our Membership, we're excited that you will now be able to use it all day and evening on Saturdays and Sundays.
The newly remodeled dining areas will consist of 3 distinct spaces. The new Dining Lounge will be perfect for indulging with your family and friends, entertaining clients and impressing colleagues with an ambiance they'll never forget. The expanded new space known as The Cellar, will be furnished with historic banquette nooks and rustic charming wine country tables. The materials will blend rich colors and enticing textures to create a great gathering space for you and your friends. The enhanced adult dining experience of The Cellar is paramount in making this your favorite place to savor the moment. The addition of The Wine Room will be perfect for your use with up to 12 of your friends or colleagues. Whether hosting a tasting party or an intimate dining experience, this space's bold character will work perfect every time for any of your great gatherings.
Additional areas of Ruby Hill Golf Club that will be receiving renovation work include the Outdoor Experience with an expanded Bocce Patio with built in fire pits. The Main Ballroom has actually already received a makeover with the installation of a beautiful new carpet that provides a warmer atmosphere for our Members and Guests to host meetings, parties, weddings and celebrations. The Clubhouse Lobby will see significant changes that will be apparent from the moment you walk through the front doors. The new furniture will consist of earthy and luxurious textures, materials and colors to bring a modern sophistication and a stunning first impression.
A special thank you for being understanding and patient over the past several months as we see the renovation through to its completion. We hope that you'll be excited for the finished results of all these efforts. If you would like to see the plans and artist renderings, stop by the receptionist desk. We have everything displayed in this area for you to see. Please let any of the Staff know if you have any questions and we'll be glad to assist.
Look for additional information as we move towards the start of the upcoming project. We'll provide weekly construction emails, as well as keep you updated on the Ruby Hill Facebook page.
Michael Rood
General Manager